Best Residential Whole Home Water Filtration System
When you want to provide your family with clean, pure water, you need the right advice. You need a custom purification treatment option that is cost-effective and suited to your needs.
At Charlotte Water Filtration, we combine our expertise garnered over thirty years and the best products on the market. We'll ensure that your new or replacement system is going to work correctly for you and your family.
To do this, we offer a range of water filtration services and options. We'll be with you every step of the way, from the initial testing of the water to the final water softening or filtration installation.
We work only with the best suppliers to ensure that you get the outstanding results that you deserve. We understand how important your family is to you. We understand that you want to safeguard them. We do too, and that's why we hold ourselves to such high standards.
We ensure that every installation goes off without a hitch. We'll come in, install the purification system, and then check to make sure it's working as expected. We won't leave until everything is done according to the highest professional standards.
Request a FREE
in-home water analysis
Unique Whole Home Water Filtration System Services
When it comes to water purification systems, a one size fits all approach is seldom effective. You could end up with a system that's too small and can't handle the strain. Alternatively, you end up with an expensive system that is far more than you need.
Our customizable options mean that you always get the right system for your needs.
Most people understand that hard water is hard on appliances. Did you know that it is equally hard on plumbing? Reduce plumbing repair bills by stopping contaminants before they can clog the system.
Are you worried about the impact of adding chemicals to the environment? We offer systems that work on reverse osmosis or UV Radiation. Both are effective at removing contaminants without the use of chemicals.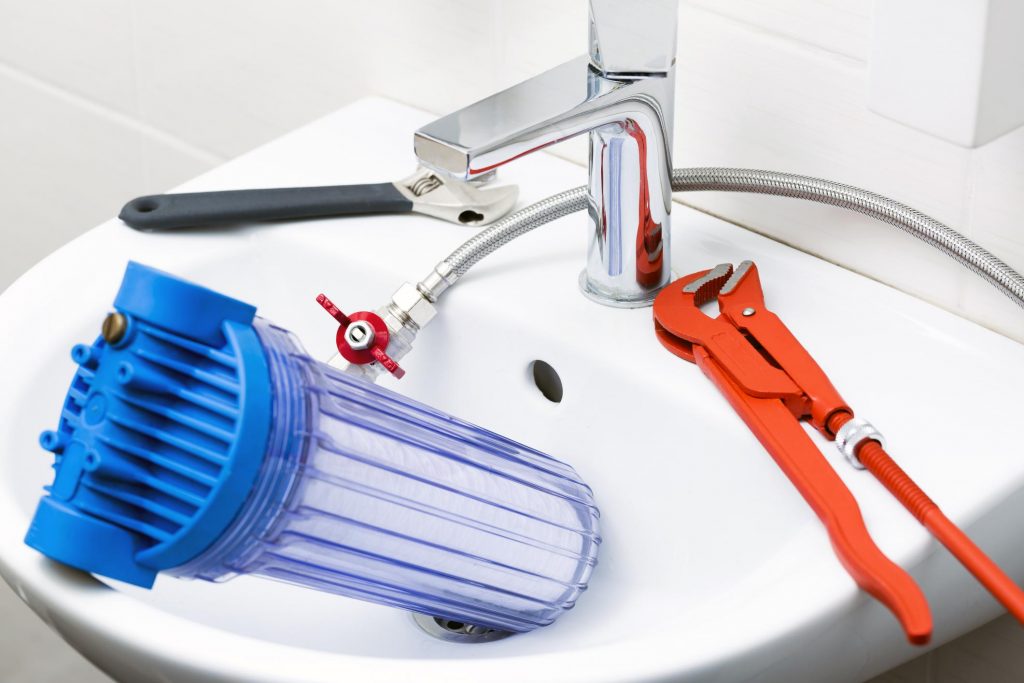 A Complete Home Water Filter System
Installing a system that will filter all the water in the home is quite an undertaking. It involves more than just unscrewing some pipes and installing the system. You need to ensure that the system can handle the work.
It needs to be effective at handling several different issues. The only way to establish what those issues are is through lab testing. We offer full water testing services so that you understand the problems you are facing.
From there, we look at the size of your home, your water needs, and a good few other things as well. That's the only effective way to create a lasting solution for you. Our expertise ensures that every drop of water used in your home is clean and pure.
You won't find a better way to keep your family safe.
Whole House Water Filter Installation Cost
Naturally, a whole house system will cost more than a simple drinking water system to install. It's still not going to be as expensive as you might think, though. We do need to understand a bit more about your needs before we can give a firm quote.
That's one of the reasons that we don't quote dollar amounts on our site. We don't want you paying for an expensive system that you don't really need. That's why we tailor-make all our solutions.
We're careful to match your needs so that you won't need expensive upgrades later on.
Give us a call and let us give you a free in-home water analysis to start the process. We can work together to find the right options to fit your budget and your needs.